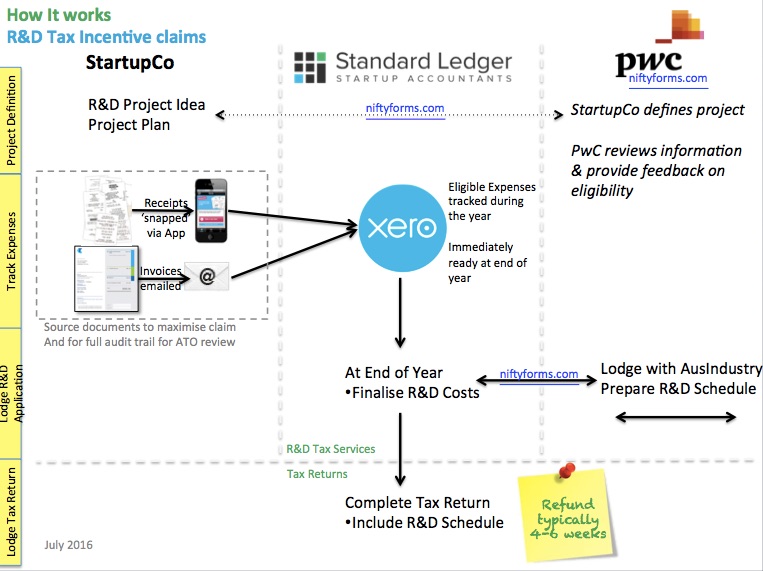 Standard Ledger have partnered with PwC, using their NiftyForms platform to collect information and have them review your claim, providing an easy to use tool and PwC expertise to confirm and maximise your eligibility for the R&D Tax Incentive. You can see the types of questions you will have to answer in our pre-planning R&D questionnaire.
Together, Standard Ledger and PwC make it easy to maximise the eligible expenses you can claim, and speed up the process so you can claim your offset as soon as possible with your tax return.

Standard Ledger can assist you to define the project scope and in particular to identify eligible expenses for the year. PwC will review the claim, provide feedback, lodge with AusIndustry and complete the R&D schedule so that we can submit it with your end of year tax return, if we're also doing this for you. If you're an early stage startup and not yet profitable, you will receive a 43.5% refund back from the ATO, typically 4 – 6 weeks after lodging.
Note: As the R&D schedule is submitted with your tax return, it is important to have completed your R&D claim before you submit your tax return.
Where you expect the project to continue into next year, having defined the project scope and eligible expenses, Standard Ledger can track eligible expenses throughout the year as part of its ongoing bookkeeping services, which makes next year even easier to maximise your claim. Through the integration with Receipt Bank to "Snap n Send" your source invoices you're also ready with full documentation should you be faced with an audit.
With the inbuilt tracking by Standard Ledger backed by PwC you can confidently speak with any potential investors about the likelihood of future R&D tax incentives to help fund your growth.
About the R&D Tax Incentive
The Federal Government's R&D Tax Incentive program is the largest financial investment in R&D by any Government in Australia. It is currently accessed by over 12,000 companies with the majority being SMEs and startups.
With over $1.5bn budgeted for the 2014-15 year the R&D Tax Incentive is one of the largest sources of early stage funding in Australia. It's ideally suited for startups providing an up to 45 per cent refund of the costs of development work.
Check out the ATO R&D Tax Incentive website for more information.