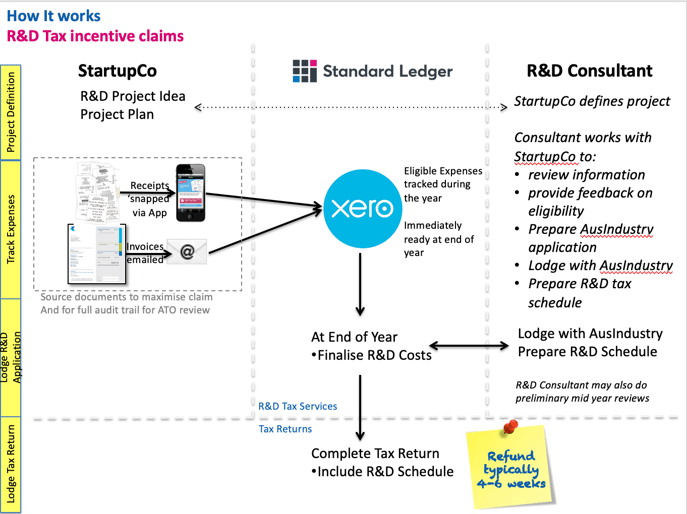 We work with and partner you up with one of two R&D consultants depending on who we think best suits your needs:
Jeremy from Worthington & Associates used to head up the PwC Nifty Grants team and has overseen hundreds of grants as part of one of Australia's largest R&D grant operations. As well as all the startups that Nifty looked after, Jeremy especially gets engineering, manufacturing and physical products;
Dave and Ben from Catalyst Solutions have done a ton of software startups too
You're in good hands either way. Once we've engaged with you, we'll connect you with the right R&D team for you then they'll do a kick off call to confirm the scope and guide you through the process.
With inbuilt tracking by Standard Ledger's bookkeeping services, backed by R&D experts you can confidently speak with any potential investors about the likelihood of future R&D tax incentives to help fund your growth.
About the R&D Tax Incentive
The Federal Government's R&D Tax Incentive program is the largest financial investment in R&D by any Government in Australia. It is currently accessed by over 12,000 companies with the majority being SMEs and startups.
With over $1.5bn budgeted for the 2014-15 year the R&D Tax Incentive is one of the largest sources of early stage funding in Australia. It's ideally suited for startups providing an up to 45 per cent refund of the costs of development work.
Check out the ATO R&D Tax Incentive website for more information.