Here's all the information about JobKeeper 2.0 eligibility, dates and payment rates
JobKeeper 1.0
If a business or not-for-profit does not meet the additional turnover tests for the extension period, this does not affect their eligibility for "JobKeeper 1.0" for the period prior to 28 September 2020, the last payment for which will be paid in early October.
Basic Turnover test decline requirement
30 per cent for companies with an aggregated turnover of $1 billion or less for

Extension 1: Jul-Sep 2020, compared to Jul-Sep 2019
Extension 2: Oct-Dec 2020, compared to Oct-Dec 2019

You will need to demonstrate that your actual GST turnover has fallen
Note: You can be eligible for JobKeeper extension 2 (from 4 Jan 2021) even if you were not eligible for JobKeeper extension 1.
Note: if you do not meet the basic eligibility turnover tests, the alternative tests (eg for irregular turnover) remain in force.
Eligible Employees and payment rates
are currently employed by an eligible employer (including if you were stood down or rehired)
a full-time, part-time or fixed-term employee at 1 July 2020
a long-term casual employee (employed on a regular and systematic basis for at least 12 months) as at 1 July 2020 and not a permanent employee of any other Employer
Employees will be paid a varying amount depending on the hours they work: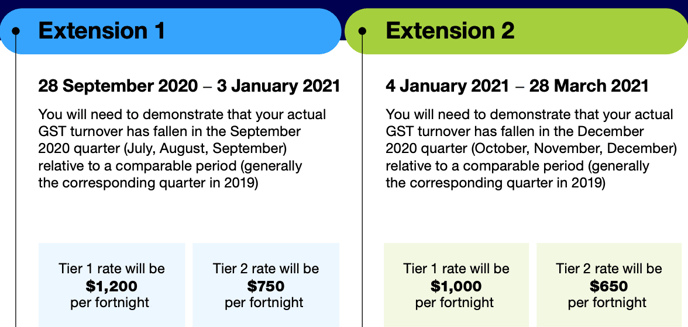 Tier 1: Employees who worked 80 hours or more in the four weeks of pay periods before either 1 March 2020 or1 July 2020, or eligible business participants who were actively engaged in the business for 80 hours or more in February 2020.
Tier 2: Employees and Eligible business participants that don't meet the above criteria
Reporting requirements
Businesses and not-for-profits will be required to nominate which payment rate (based on tier) they are claiming for each of their eligible employees (or business participants).
If you are a payroll client, we will determine this when the payuns processed.
New JobKeeper Participants
In a recent update from ATO, they have confirmed that the JobKeeper scheme will remain open to new participants, provided they meet the eligibility requirements for the relevant period.
Any new employee that was employed as at 01 July 2020 will be able to be included, subject to eligibility.
More information