Depending on the help you need you might need to contact different team members.
The above email is your catch all and will be routed to the team member we think can best help.
If you're a bookkeeping client, you're already in contact with your nominated bookkeeper through the weekly update email as part of your weekly bookkeeping. So simply reach out to them.
If you're a new Standard Ledger client whom we're onboarding then one of the customer success team will have been in touch to guide you through this part of your journey with us, so simply reply and they'll help you further.
---
If you, as an employer or any of your employees have payroll queries:
---
If we're doing your tax return then one of the tax team members will have been in touch, so simply reply and they'll help you further, or if you need to email though information or check where you are in the process of preparing your tax return you can always:
Note that if you're needing tax advice, you'll need to book a time with Mike.
---
Need more specific advice from Remco or Mike?
We understand from time to time that you may need more specific advice from Remco or Mike.
If you're a client to whom we're providing ongoing bookkeeping, tax, R&D or CFO services we always love to hear from you. Please Book A Call with Remco or Mike to schedule a call back - you'll be directed to our calendar's to pick a time that suits you.
Mike and I always include a link to Book a Call with us in our email signatures.
Paid phone consults
If you're one of our early stage "DIY" clients, we offer paid telephone consultation services with our principal's. You can book and pay here:
Remco (for accounting, operations, R&D and CFO matters)
Mike (for tax, structuring, valuation and CFO matters)
Can I talk to someone?
We get it.
Sometimes it's just easier to talk to someone to explain the issue you have over the phone.
While most of our clients find the asynchronous nature of email works for them (especially as we often receive emails in the middle of the night because of the crazy hours our founders work) sometimes email just really doesn't work. You know those email chains when, on both sides, things are just not being understood. Our team are more than happy to book a quick Zoom video call to clarify things - they will usually proactively suggest this when they feel it might be easier but this is always an option for you to request a video call back too. Zoom is great for screen sharing too.
Note that calls are typically only available to our ongoing bookkeeping clients, during onboarding or for clarifying misunderstandings.
If you need to book a call with one of the team, just follow the link in their email signature to book an available time. Please note that most bookings will be more than 24 hours out.
Hubspot
Standard Ledger uses Hubspot to receive, manage and escalate inbound emails and assign tasks between our team so they're being handled by the right person, and we're accountable to get back to you and provide the response and service you need in a timely manner.
As we aim to respond quickly, don't be surprised to see an email sent to one person, for example, being answered by other team members. Rest assured, if needed your questions will be escalated through as necessary.
To remain fair, while being aware of priority matters, we typically respond back to all conversations in the order they are received.
The Standard Ledger team
If you like processes and pictures as much as I do, this is shown pictorially in more detail below so you can put faces to the names of the team looking after you.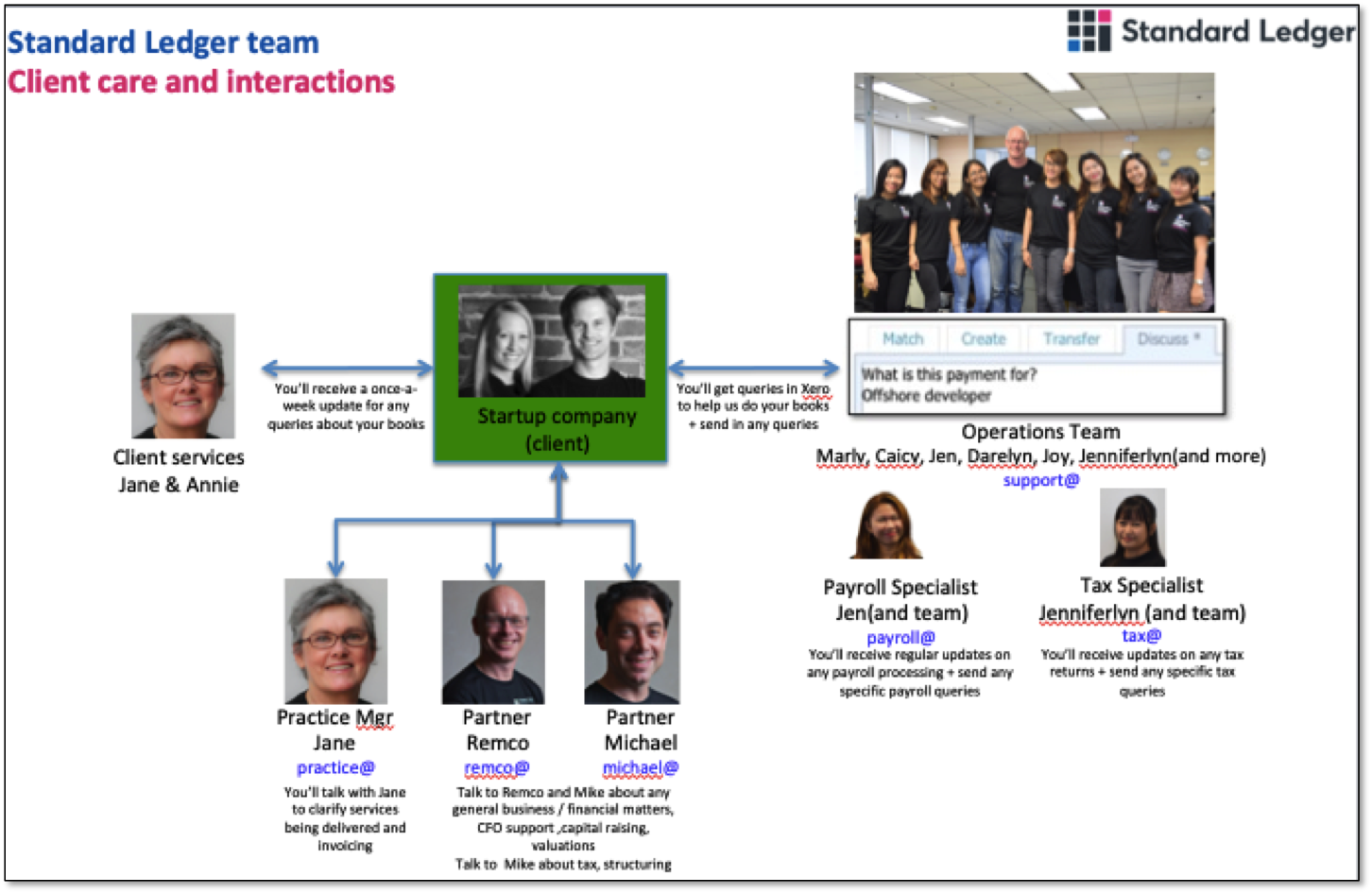 If you have any concerns please don't hesitate to email me directly at remco@standardledger.co.