In July 2021, Austrade launched a new EMDG program for the FY22 year onwards. While what you can claim for hasn't changed you must now submit an upfront plan earlier in the year in order to subsequently lodge your claim against.
Your plan needs to be lodged by 30 November 2021 (no extensions).
For details on how EMDG works generally and what you can claim for, check out our EMDG article.
Remember that the old process is still in place for claims prior fore FY21 and FY20 and if you have claims for then you'll need to complete those (by the normal due date of 30 October 2021 or the extended date of 28 February 2022, at the same time you're pre-lodging your FY22 plans.
Our friends at Avant Group whom we know, recommend and work with for our clients EMDG applications have provided this summary of the changes.
How will EMDG work from 1 July 2021?
From 1 July 2021 the EMDG program will become an upfront eligibility-based grants program, and the process for receiving a grant will be as follows:
A grant application needs to be submitted before you spend money on promotional activities. The application will include milestone payments that link to key expenditure activities you undertake. This needs to be submitted by 30 November 2021.
Once all applications have been assessed, Austrade offers a grant agreement to each eligible applicant.
Once you have your grant agreement you can commence spending. You then submit your expenditure in line with your milestones to receive a cash back as outlined in your grant agreement.
In your plan you will need to nominate whether you're applying under one of the following tiers: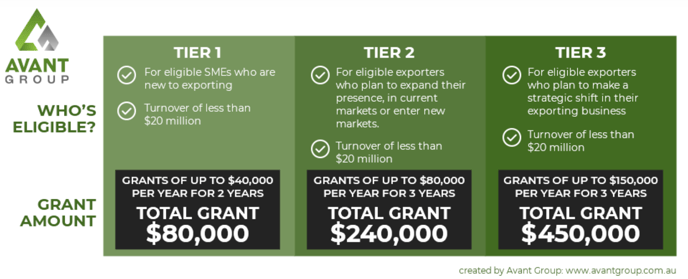 Book a call with John, our R&D and Grants specialist if we help further.