As your company grows, you're likely to need more help managing your finances, and planning for growth.
But you don't just need a finance manager. You need a financial adviser who yes, can manage your finances, but who also has extensive experience in startups. Remco and Mike act as virtual CFOs for a number of clients already, and we're building out our network of additional, startup savvy CFOs who can also support our clients.
Our recurring virtual (ie part-time) CFO services are designed to fit on top of our core bookkeeping services, and include the following:
We take the lead on queries. As CFO, we take the forefront of taking responsibility for keeping your Xero accounts up to date. As part of our bookkeeping services, we send our clients a weekly update and request clarification on unreconciled transactions. As CFO, we'll take of managing this ... as best we can initially because, ultimately we will still need your help in running down outstanding queries/ receipts etc
Accountability, Analysis and Insight. We'll setup fortnightly "accountability" calls to check in with each other, along with more structured end of month analysis and discussion around the performance of your business.
Dedicated finance account manager. The account manager supports the CFO in keeping everything moving. Your account manager will be sending weekly updates to the CFO as well as to you, the client, if you still want to receive these. They support both of us in keeping on top of transactions, will call you periodically to check in (or to chase you for those receipts!), and lean in as necessary, including visiting you onsite if needed from time-to-time. Feel free to reach out to them at any time, alongside your CFO and the rest of the bookkeeping and payroll teams.
Priority handling of all your queries by the bookkeeping team and the account manager including Zoom video calling because as we all know in a busy growing business sometimes email just doesn't cut it.
End of month. This includes monthly analysis of actuals and performance against budget for Board reports as well a more formal face-to-face or video meeting around the finances and how the business is going (see more below).
CFO Time. Yes, ultimately that's we provide in our services. Access to the services of a professional, technology and startup savvy CFO. In our core CFO Grow service, for $1,750/month, you can expect about 4 hours per month of work / contact time from your CFO. As you continue to grow and need us to lean in more, our CFO Grow+ service provides additional CFO service time, for $2,900/month. And beyond this our 1/2, 1 or 2 day per week CFO Partner packages start at $4,100/month. We also offer pre-purchased "block time" discounts for any anticipated adhoc future services in the short term (eg during capital raising).
As well as the specific recurring services your CFO has a wealth of startup specific and strong general business experience. We get involved in price setting discussions, operational and employee matters and of course, helping you access the all important funding whether it's through access to the R&D tax incentive, R&D forward financing, EMDG or other grants, raising capital (and all that goes with that like valuations and financial models) and right through to company structuring and what to do when you're expanding overseas.
End of month activities and reporting
Preparation. End of month is a flurry of activity, ending with your financial reports but, first, there is a 3-way "internal huddle" within the Standard Ledger team. At the start of the month the CFO, account manager and the bookkeeper do a bottom-to-top and top-to-bottom review of the financials to make sure they are as accurate and up to date as possible.
Reporting. We use a variety of tools to produce our formal EOM reports, including Spotlight Reporting as well as Modano-based Excel financial models. All tools have their pluses and minuses and we work with you to understand your needs to decide on the best fit. With the underlying data quality assured, with reporting the emphasis is on presenting reports in a meaningful way that lets us and our clients capture the key elements that drive your business - the metrics, the revenue and expenses, key balance sheet items and, most importantly for growing businesses, the forward cashflow.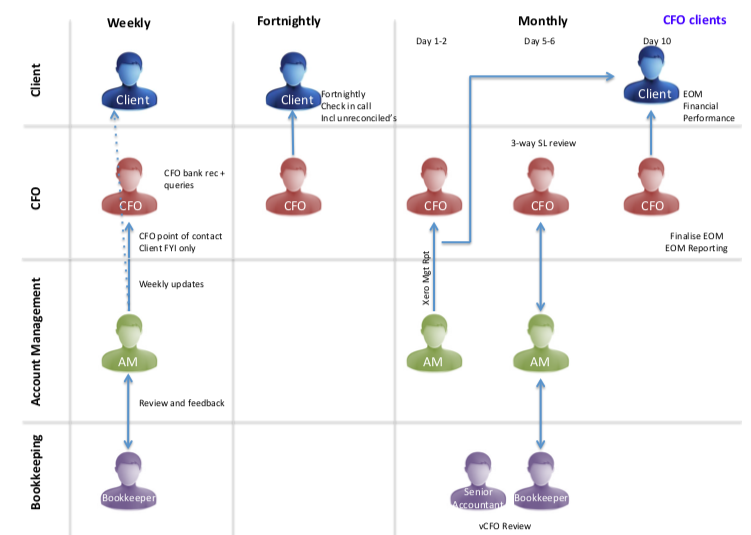 Financial Modelling / Budgeting
If you don't have budgets or investor ready financial models in place before signing up, you will also need our separate financial modelling services. These are priced from $3,000, with typically the same again over the first few months of operations as we get rolling with the model and refine them. If you require minor updates, and interim re-budgeting (eg rolling 12 month forecast re-budgeted at six months) this is included as part of our ongoing monthly CFO services.
See our Dashboard and Financial Modelling Portfolio for examples of our work.